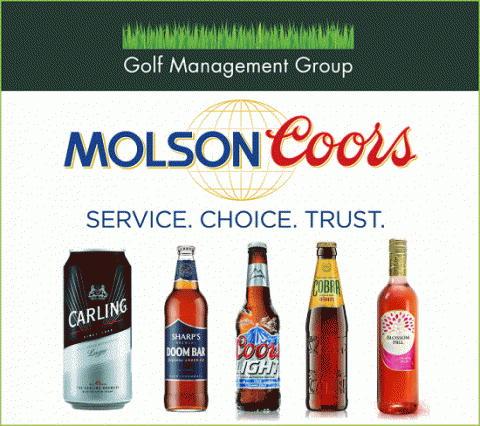 Carling is the Darling! GMG's Molson Coors deal proves popular
We are delighted to announce the winner of this summer's 'GMG Picks' / Coors Light USPGA competition!
Congratulations go to Ian Wharmby from Delamere Forest GC, who won a 4 ball at The Belfry plus accommodation. Well done Ian, and we hope that you and your friends enjoy the day.
In second place was Andy Lee from Davenport GC – he won an iPad. Third place went to Mike Wells from York GC – and he won an iPad mini.
We will be running our 'GMG Picks' game for all of the majors next year so look out – there are always great prizes to be won!
ABOUT THE GMG / MOLSON COORS DEAL
GMG members are already taking advantage of our latest deal with Molson Coors, which complements our existing terms with Matthew Clark.
As regards your beers, wines and spirits supply, we now have a truly outstanding offering, including the best prices, brand portfolio, sponsorship packages and discounts on Sky TV.
If you are still sourcing independently then we seriously advise you to request a review from our team.
You may be extremely surprised in what is achievable when we pool our resources…
MEMBER QUOTE – DAVID BOYCE, GENERAL MANAGER, HIGHGATE GOLF CLUB
"We were approached by GMG with a view to comparing our purchase prices with our beer supplier.
As regards Molson Coors, we were pleasantly surprised: not only could we get our current popular best-seller at a cheaper price than our then-current best price, but we could also make other savings by making a simple switch to other popular brands.
By also factoring in the rebates on the total invoice price, plus the brewer's barrel rebate and the Sky subscription discount, we found that we could afford to try new lines with some peace of mind.
The support which our Bar Manager received from the rep has been a benefit, as sometimes the relationships are better than the T&C's on this side of the industry! I feel that this is a key benefit of working with Molson Coors.
We had meetings with other large well-known companies in the beverage industry, and found Molson Coors to be head and shoulders ahead of their competition as regards professionalism.
Therefore I have no hesitation in recommending that GMG puts your golf club in touch with Molson Coors."
CONTACT US
Please contact Scott Partington or David Valentine in the following ways: